Maple Washing began as a college student's pursuit of financial independence and has blossomed into a thriving enterprise, leaving an indelible mark on the realm of exterior cleaning services.
Gary's vision of Maple Washing commenced during his college days when the need for income propelled him into a job with a power washing company. Little did he know that this would be the catalyst for his own venture. By cultivating a profound partnership with the company owner, Gary imbibed the intricacies of the industry and the essence of collaboration.
Over time, Gary's aspirations evolved, leading him to establish Maple Washing as a subcontractor. This modest beginning gradually gained momentum, propelling Gary into the role of an independent player in the exterior cleaning domain. Throughout this transformation, his gratitude towards his former employer remained unwavering, embodying the values of loyalty and unity.
Maple Washing's roots trace back to its inception as a window cleaning service. However, the company's growth trajectory took an unexpected turn when it diversified its offerings to encompass a range of exterior cleaning services. The most surprising addition was the Christmas lights service, sparked by a senior customer's request. This seemingly simple favor evolved into a heartwarming aspect of Maple Washing's identity.
The evolution of Maple Washing's infrastructure is nothing short of astonishing. From a lone 1998 F150 truck and a wooden ladder rack supporting a single 24-foot ladder, the company has evolved to boast two Sprinter vans, two F150s, and an additional van dedicated to estimations. The equipment too has witnessed a remarkable upgrade, transitioning from basic tools to a comprehensive arsenal that empowers a team of eight or more professionals to tackle any cleaning task with finesse.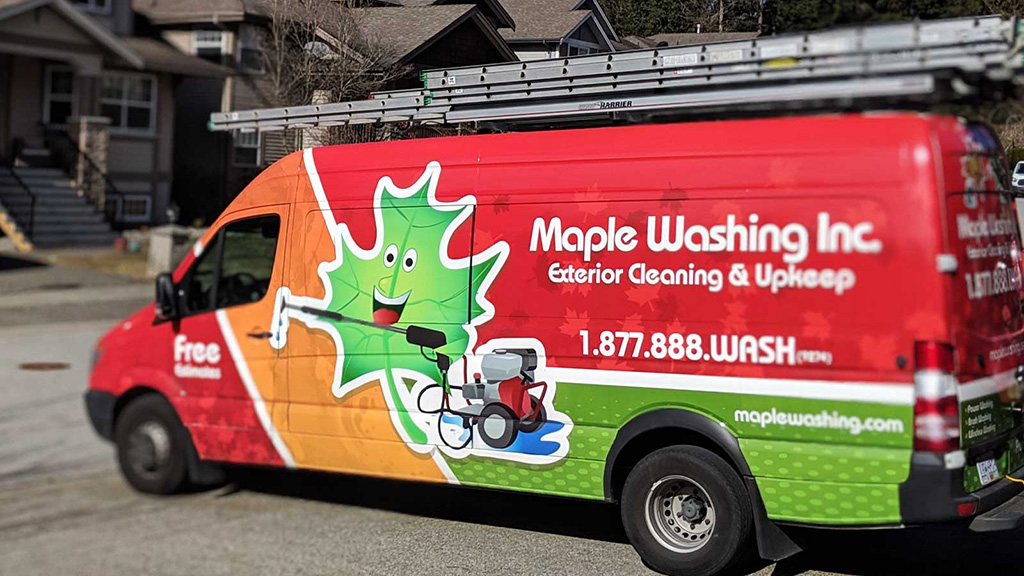 Speaking of the team, Maple Washing's journey from its modest beginnings to its current stature as a thriving business has been a collective effort. Starting as a one-person operation with Gary at the helm, the company has grown into a team of eight dedicated individuals who share the same commitment to excellence that has defined Maple Washing from its inception.
As Maple Washing commemorates its 18-year milestone, the vision for the future is clear: a commitment to further growth and the continual expansion of services. The company's unwavering dedication to delivering exceptional service sets the stage for even greater accomplishments in the years ahead.
In an ever-changing industry, Maple Washing stands as a testament to the power of determination, collaboration, and the pursuit of excellence. From its inception as a college student's endeavor to its position as a leading player in the exterior cleaning arena, the journey of Maple Washing embodies the spirit of entrepreneurship and the potential for growth inherent in every ambitious dream. As we celebrate these remarkable 18 years, we eagerly anticipate Maple Washing's continued ascent to even greater heights of success and service.